Watching in the comfort of home is one thing, but the theatre is the best place to see a movie. If you were alone or with others sharing popcorn, candy, hot dogs, soft drinks, it is more of an experience then just watching a movie. From a young age being with family to growing older and meeting friends to having dates, going to the theatre is always special. I just love the look and feel of the big screen. And of course the junk food - even though it is highway robbery!

Of course as I grew older my screen idols began to change or rather include Steve McQueen, Paul Newman and Robert Redford. Some of my fondest memories were when Mom would drop my younger sister and I off at the theatre to see a matinee double feature. I'll never forget the afternoon we saw The Sting and Smokey and the Bandit back to back. In my later teens my sister and I often interacted repeating dialogue from our favorite movies. "She's not outside eating chicken that's for sure."


I loved the story telling and escaping into the ever-changing world created on the Silver Screen - even if it were for only 90-120 minutes at a time. This has never changed. In fact that remains true today and if there is ever a time when a couple of weeks go by and I haven't been to the theatre, I feel it and when I get there I really feel it. That is what makes me happy even if the film isn't what I hoped it to be!
In the early 80's I graduated from high school and enjoyed life to the fullest even though there was little in the way of direction! I could write many stories just based on those experiences. Hey, it was Southern California, mid-80's and a guy in his early 20's! I doubt I need to say any more and if you can image it, I probably did it! Did I mention no direction?!
Still there were moments that were not crazy and slowed down enjoy to take a breath. I must say here that the first time I was ever mesmerized by a movie, it was when I was introduced to Robert De Niro and James Woods in the masterpiece by Sergio Leone, Once Upon A Time In America. By the late 80's I had left the climate control comfort of Southern California and relocated to Dallas, Texas. Within a year my life began to get some direction and because of my love for rock music and especially of that time (Whitesnake remains one of my favorite all-time bands! Go David Coverdale, you Rock Loud, Hard and with Style! -- click on banner below for info on the Live DVD and CD combo package and where you can buy yours! - It is the BEST "LIVE" DVD you will ever seen - artistically and technically speaking. I love it!)

It was at this time that I found the Art Institute opening my horizons in their brand new courses for the "Music and Video Business" curriculum. It was great because the focus was on creating and producing. Although my initial intentions, because of my love of rock music, was to become a music producer. Of course nothing less then a very famous and successful music producer. I was going to be the next Robert "Mutt" Lange, but I found my affections being drawn to video production as I wrote, directed, edited and produced music videos for local garage bands for school assignments. Here I was able to participate in my own story telling, although it was limited to only three and a half to four minutes of the song and I lost valuable story telling time by the necessity of the beautiful girls in as little to wear as possible and being forced to add those shots of the band!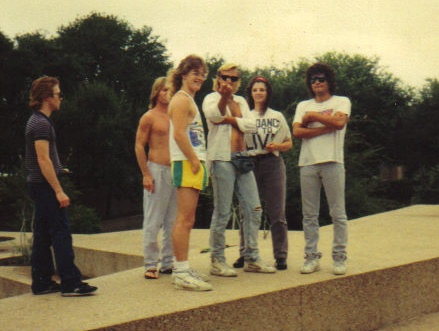 Here I am with a local band, my DP and PA on location at the Ft.Worth, TX Watergardens preparing to shoot a scene. Yes, that is me in the middle. I think I was just pointing and using my finger to say, "Come here!"
Below is the music video we shot that day. Keep in mind that this was done in 1989! At the time I loved doing it and that it was also a anti-drug message which was a personal desire to express back at the end of the "Decade of Decadence" and I was using the band in my storytelling and had them playing the Guardian Angels which is portrayed near the end! There are a handful of things I wished I had done or been able to change but still - it was revealing to me as it showed me what I was meant to do. Except being in front of the camera as I was in here - writer, director, producer, editor and probably because the gorgeous woman in the female role was my girlfriend at the time I also played the boyfriend character! Never again - I am a behind the camera dude!
So with all of that in mind here it is!

That was a hectic day - the production and when I finally got time to use the editing room at school! But I also never felt so alive and so incredibly fulfilled as I was in the whole creating and producing process here. From here on I knew what I wanted to do with my life! As icing on the cake - I got the highest marks in the class for this assignment and the class members also loved it! So it was both a critical and audience success back in the day!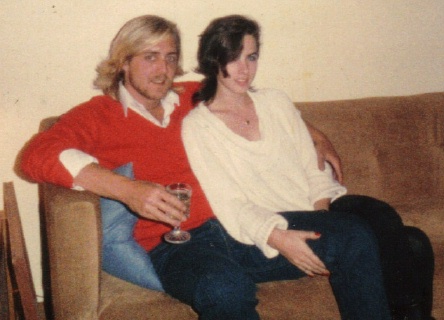 So these are the stars of the music video! Here I am in the Late 80's. It was a great chapter in my life! Not sure about the red sweater but a nice glass of wine and the model girlfriend and I am not speaking only of her career! She was wonderful. Too bad I wasn't! I have few regrets but being as selfish as I was back then is definetly one of them. I have learned and will never forget to be grateful and respectful for what you have. Do not take anything and especially anything or anyone you love for granted!

Finally it all made sense and I knew what I was meant to do and knew that I had to learn film. Movies, modern day storytelling done in the theatre on the big screen. I had to move away from Hollywood to realize what I wanted to do? But there was more to learn and although I wasn't aware of it then the definition of what I was meant to do still had to be refined. After school I found only temporary freelance work as a video camera operator, production assistant or sales accountant in video production. The dreams of becoming a film director and independent producer slowly faded as the video jobs wore thin and I had to secure full time employment outside of the production industry to pay the bills.
A couple of years later, in 1994, I had been promoted from courier to manager of two Dallas overnight delivery offices after less then a year of working for the company. Despite my success there was a huge void in my life. I had been working so many hours and for so many weeks that my personal life was nearly non-existent. On a day off, I finally got to get back to where I am most comfortable - the local cinema theatre! I went to see this movie that just came out. I didn't know any of the background or history of this film like I used to before seeing any film. Obviously I have been working a lot lately! So I went anyway and I couldn't believe what I experienced that day. From the opening scene through the ending credits, "Pulp Fiction" blew me away and I was reminded of what story telling was all about!


I loved it so much I forced my three brothers and three or four friends to go see it the very next day! I know what was in that briefcase of Marsellus that Vincent and Jules were sent to retreive and glowed when it was opened but never revealed - that was Tarantino's genius, lightning in a bottle and lightening is what struck me! I won't go into all the reason's why I feel that way because it would take too long as I could lecture an entire class about it!

More important that film had re-opened my eyes to realize that my dreams, hopes and desires to direct, write, produce stories on video and/or film was more than just a desire, it was a need from within and it still had not been fulfilled. It is like oxygen and because I wasn't doing it or even around it any more I felt like I was suffocating.
Determined to tell stories longer then the length of a music video, I immediately began to write a short film that I planned to save money for and produce myself. Now my heros evolved to those whom I admired before but suddenly I had a understanding of more, Steven Spielberg, Martin Scorsese, Francis Ford Coppola, Sergio Leone, Brian DePalma, Stanley Kubrick and classics like Alfred Hitchcock, Frank Capra, John Huston, John Ford and this new kid on the block, Quentitn Tarantino - I knew what drove them to do what they did because deep down in my very soul I felt it!
I began writing and storyboarding a short film about a man who is running through the streets of Dallas on a cold and rainy night from a stranger that when he finally catches him it is revealed that it is himself and once he forces himself to look at himself and therefore the reasons why he is running from himself - shown in B&W flashbacks - he is freed and the running stops as he falls to the wet ground and his chaser holds him in comfort and understanding. Then he picks himself up and walks off into a warm and dry sunrise. Not a sunset but a new day, a new beginning for the rest of his life. That was going to be my first masterpiece!

Finally I once again felt alive and with a purpose and although I was working 12-16 hours a day at the overnight delivery company, I had to spend hours involved in the development of my own short film production. Determined and promising myself to be true to myself as a storyteller, I quit that management position and became a local courier company's independent contract courier driver so I could earn enough to pay the bills and work only 8 hours a day so I could devote more time to work on my film production. Due to the events that followed, the production was never completed.

On April 1, 1995 I had a terrible accident that changed my life forever. I became a survivor of a spinal cord injury that left me paralyzed from the mid-back down.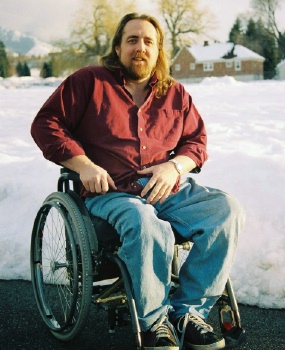 Almost two months later, while I was still recovering, I watched the television news report that Christopher Reeve had suffered a similar fate. Although the results of his injury were much more severe and debilitating than mine, I felt an immediate connection with him. With his fame brought focus to those of us in wheelchairs and specifically those with a disability in the entertainment industry. It saddens me that I never got a chance to meet Mr. Reeve but nevertheless he continues to inspire me today.

Fortunately for me I have complete use of my upper body including my arms and hands that provide me with complete personal independence and the ability to create and produce the films and projects that will break the stereotypes of characters with a disability.

During my rehabilitation, the remaining months of 1995, I had discovered a real need to wed the video, television, and film production community with the disabled community. Both in the crew used in the production and as topics and features of the programs. My accident had depleted all of my savings, put me into debt and due to the fact I had changed jobs just a couple of months before, I also didn't have any medical or disability insurance. Still I was determined to make the most of the second chance I had at this life and that meant living my dreams.

Armed with my video and business skills I developed several programs that included; disabled rehabilitation training videos that focused on the skills needed by the newly injuried survivors of a spinal cord injury as well as the physical therapists to give them additional understanding of their very important role. I also developed videos that celebrate the varied lifestyles that included the career highlights, family life and activities of the citizens of the world with disabilities, and a newsmagazine television show that was devoted to the now more than 54 million Americans with physical disabilities. Most recently I have also developed, "Independent Travels" a television program that explores the accessible areas and activities of travelers with disabilities. To learn more follow the links to Television in this website.

Meanwhile, back in the late '90's I was studying and enjoying films that featured characters with disabilities that led me to frustration over the common stereotypes being portrayed. Although they are good movies, some even great movies, most seem to be required to either be surrounded by world events (and often surrounded by political agendas), i.e; The Men, Coming Home, Born on the Fourth of July, or to exploit the trauma of first becoming disabled, i.e.: The Waterdance, Passion Fish and in the undeniable style of George Romero, Monkey Shines, or be predictably inspirational i.e.: The Other Side of the Mountain, My Left Foot to qualify as worthy dramas by Hollywood.

Don't get me wrong, the films I listed are fantastic films, with remarkable performances but they all seemed to fall into that pattern. I wanted to see a paraplegic in just a role when it wasn't about his/her disability. Clearly there is a need for new, innovative and fresh scripts produced into movies and television programs that feature characters with disabilities where their disability struggles are not the plot but are a part of them as a person, like sex, race or creed. Christopher Reeve's fantastic 1998 portrayal in the modern update of the classic Rear Window (which I still have recorded on vhs from the original airing on television) is a wonderful example. And in one of Christopher Reeve's last roles before his paralyzing accident, he did another amazing performance portraying a paralyzed cop in Above Suspicion. Although the character's state of mind was more paralyzing then his physicality as the twist at the end proved, the plot was more about him as a person, bent on revenge, rather than his trauma of dealing with his disability. Another film I must mention is the one based on the novel and screenplay written by Stephen King and starred Corey Haim as a paraplegic kid in the Silver Bullet.

My scripts and projects primarily focus with those with a spinal cord injury like myself and they are focused more on the person and the story then the disability being the plot. Also as I have been describing I am speaking of featured roles. There are a handful of wonderfully portrayed supporting roles that I think also either followed the stereotype or did actually move beyond it where they were more about the person and the disability was secondary. The latter brings another great actor named Christopher, Christopher Walken as "The Man with the Plan" in Things to Do in Denver When You're Dead. I loved that character primarily because speaking of breaking the stereotype he was a villian instead of the typical good guy who has overcome terrible odds! Not to mention how great it was portrayed by Walken! Another one that should be mentioned was beautifully acted and because I never saw ths actor before this movie, Gattaca I wondered throughout the movie if Jude Law was really paralyzed! And I really liked how it was that the character was genetically perfect but that his spinal cord injury had society say he is now not (somewhat very similar in our society. Hmmmm?) and how a genetically imperfect person needed the guy who was disabled!

Yes when I am not watching or writing or soon to be directing movies, I do read!

"From Reel to Deal" by the master teacher
Dov S-S Simens!

So with a need for more stories to be told that featured characters with a disability, my education needed to expand from the video writing and production to screenwriting and film production. I joined the Dallas Screenwriters Association and submerged myself in seminars, books, reading and studying scripts from their library, participated in individual classes, attended lectures and joined writing groups. All provided great knowledge of screenwriting but my real education followed in writing and rewriting my first script, "Forever Yours" more than a dozen times.

"Forever Yours" is a romantic drama with some comedic moments that features a paraplegic man who's a very successful entrepreneur and must swallow his pride to accept help from the love of his life, as he learns "no man is an island." I envisioned this script in the style of good-hearted fun, along the feel of My Best Friend's Wedding and certainly with the focus being on his relationship and fear of commitment and not his disability. Although I had successfully pitched this script to several independent producers and production companies, none acquired the rights. I suspect it is because characters with disabilities do spark interests but "Forever Yours" does not follow the stereotypical characters with a disability befitting a "worthy drama" of Hollywood standards. They are programmed to think the character with a disability has to have a strong character arch in overcoming his disability and dealing with society as a disabled person. Instead this main character's arch is to overcome his fear of losing his independence, one that is magnified as a person with a disability before loosing the woman of his dreams. Meanwhile he has to meet her parents who know nothing of his disability (a taste of Guess Who's Coming to Dinner and Meet the Parents) He is also trying to prepare to merge his company with another without losing the employees that helped him become a success. In the midst of all of this is a blast from both his and his girlfriend's past when their former girlfriend/boyfirend enter the mix. Although there are elements of the main character's disability, because they cannot be ignored, they make up a part of who he is and the psychological make up but it is not the basis of the plot. To me this is refreshing and is a romantic drama/comedy whose main character happens to be a person with a disability.

Meanwhile, I applied the same intensity I had with learning the art of screenwriting to other aspects of filmmaking. My self-education of becoming a film director was and never will be hampered. I will overcome rejections and combat any and all lack of knowledge with continuous learning of what I need to become and remain a successful film director and producer in pursuit of changing Hollywood's perceptions of Characters with a Disability. I feel this goes beyond just Hollywood's perceptions and can touch those who watch my films as described in more detail below.

My latest feature length script, "London Time," is an intriguing mix of murder mystery, love story and personal accomplishments, as a series of homicides finds paralyzed Detective London reunited both professionally and personally with Marci Waters to catch a fired Studio Executive before he murders another film critic in his vengeful goal to control all entertainment press and blackmail the entire film industry.

"London Time" is the script that is a prime example of breaking the Hollywood stereotypes of characters with a disability. The main character, Detective London, is featured in a story that is more about him as a person, a cop, a man, a lover, a widower and father with personal struggles over the loss of his family, the pressures of his job and not about the physical hardships of a paralyzed person in a wheelchair. There are moments where you will get a look at some of things that wheelers are faced with in society, and in ther private moments, that does include intimate moments! This is an authentic voice and a good police drama. The disability is not the focus but a by-product of the story and character. Like life for all of us, it's just his lot in life to deal with.


I liken the focus of my filmmaking to that of the black stereotypes being broken in the 1960's and '70's. When I hear individuals like Oprah, Halle Berry, and Denzel Washington speak about the first time they saw movies that featured strong characters of African-American decent and how wonderful it was to see someone on the big screen not being portrayed in the same stereotypes as had been the case up until then. Before Sidney Poitier did many of his significant films in the 1960's and '70's black characters were rarely the featured character and when they were it was in a stereotypical role of a servant or at best as a second or third class citizen. I can identify and relate whenever I see someone in a wheelchair on the big screen, on the Silver Screen. I feel recognized. I feel visable even when it is in a stereotypical role.

I am not the only one who feels this way. Here is one example.

"In the same way that the Black Power movement in the '70s insisted on the unique power and beauty of African Americans, or the women's movement empowered women to expose stereotypes and tell their own stories, the disability rights movement and 'crip culture' are challenging our preconceptions about what it is to be human."

Playwright Kathleen Tolan, American Theater magazine - "We Are Not a Metaphor (April 2001)"


I even enjoy those with other disabilities. My new favorite Super Hero is Daredevil and it has nothing to do with the fact that it stars Jennifer Garner (okay maybe a little bit - LOL) but it is about the fact that he has a sight disability. And even though it is based on a comic, Hollywood has brought that character to live action status. A real live person -- of fiction but you know what I mean! I feel I too can be like the character on the Silver Screen. Here a person with a disability is a Super Hero and on top of that he gets the girl - well maybe not in the end but he did capture her heart and got to kiss her and a little more in the theatrical release (in a scene that was shot a couple of months after principal photography was done. I also have the Director's Cut on dvd but the romantic in me likes this version) and not just any girl but Jennifer Garner! Did I already mention the significance of that - oh well, despite being a man with a disability I am just like all the other red-blooded hetrosexual American males! And no worries Mrs. Affleck, or for that matter, Mr. Affleck too, I am not a stalker or worse, paparazzi. Truth be told I will be the first to admit that although Jennifer is an undeniable natural beauty that would stop traffic even if she were not a fabulous actress and celebrity, I am infatuated with her characters, Sydney Bristow and Elektra Natchios. In addition, Jen and Ben are an incredible couple in the classic style of Bogie & Bacall of genuine Hollywood couples.
| | | |
| --- | --- | --- |
| Oh, and there are other stars in Daredevil too! Aside for the wonderful portrayal of this Super Hero with a disability by Ben Affleck, who is an able bodied actor - there are excpetions and due the requirements of this character being a Super Hero, it was even difficult for Ben to shoot with vision. I do make exceptions in most that deal with developmental disAbilities and some physical disabilities depending on the role. I also credit the director, producer and casting directors who got it right with all of the other castings, along with the story adaptions, soundtrack, photography made this so visually appealing (even in the scenes that did not include Jennifer!) and more - all together make this movie come alive! I love this movie! | | What vision! Even for a blind man! Ben, you are one damn lucky man and I hope you never forget it! I doubt you will afterall you got it right by marrying her! |
Back to the subject - I do think that entertainment and especially film has a way of assisting in helping society break stereotypes and even prejudices. In a theatre watching a film is where one can see other points of view, even their own without the risk of being directly involved. As an example I honestly think that films like "Guess Who's Coming to Dinner" did help in society's view and treatment of black Americans. More recently and as another example I think films like "Philadelphia" helped to brake the stereotypes and prejudices of homosexuals and those with AIDS. Let me add that I do not think these films single handedly broke stereotypes or prejudices but I do beleive they played a significant role in society's views on those minorities and I hope to participate in doing the same for those in the largest and fastest growing minority, those with a disability.

Okay off my soapbox - for the moment! Currently, I am taking the next step in my storytelling and breaking the Hollywood stereotypes of characters with a disability by bringing awareness to Hollywooy and earn some support through the work I have done for th epast 12 years and shown here on this website. To launch Abilities United to the next level, I will be acquiring production & distribution assistance to direct and produce one of these films: my short film, "Glacial Breeze", one of my feature films, "London Time" or "Forever Yours", or the third option will be the documentary film that will film my journey in getting the attention of Hollywood to bring a focus on how I have been working extremely hard to create what I have and in the many attempts to get in contact with industry people who I know can help yet never return my calls, faxes, emails, or letters (all of which I have documented form the beginning!) thereby continuing to perpetuate the incredible stereotypes, discrimination, ignoring and dismissing those with a disAbility and then maybe Hollywood would want to hear a solution when the problem is highlighted in a documentary film winner of the film festival circuit!
If you care at all and want to add your Abilities to be United with me and others to any of these projects in this great cause with a great commercial chance of success then please don't hesitate to contact me.
I have gotten a 2nd chance at life and despite the physical challenges it has brought, it has also been a wonderful personal growth for me and I have also lived to make this dream a reality and therefore it will be. I hope it will be as successful in helping the millions of people with a disAbility gain some respect and dignity by having some authentic representation in the entertainment capital of the world - Hollywood and its movies and television programs! Let me borrow 2 lines at the end of "Daredevil." "Now I have faith that anything is possible. And somedays faith is all you need." And I will substitute Abilities United in where the character Matt Murdock speaks of Daredevil - "As for (Abilities United), well soon the world will know the truth that this is a city born of heros. That one man can make a difference"!

I can make a difference, but I cannot do it alone. For now I will continue to seek those who can and more importantly those who will help! And then I will see you on the set or at the movies! And thanks for stopping by and checking out Abilities United and reading through how I got to this point here in my abridged Bio!

Larry N. Sapp II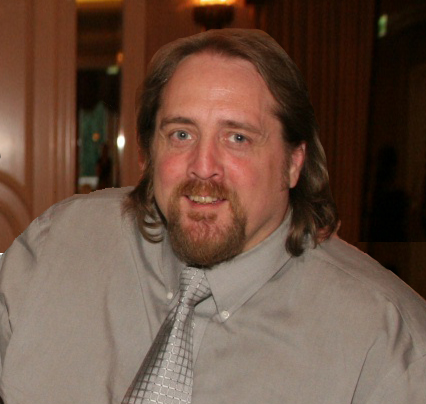 Click below for a Featured Actors with a disAbility page and for a personal thought or two in the blog section!